The Bodwell Family Mysteries
---
If you have the answers to any of these mysteries or would like to discuss them contact me: bodwell@ptcpartners.com or leave a comment
Lorenzo Bodwell, son of Andrew Bodwell 1804 arrived in San Francisco aboard the steam ship "Golden Gate" on December 17, 1852. He was but 21 years of age at the time. He died but a few years later on September 26, 1854 in Nevada, California. What were the circumstances surrounding his death?
Who were the H. B. Bodwell and G. Bodwell who arrived in San Francisco aboard the steamer "Monumental City" on March 4, 1852?
Repeated newspaper articles and obituaries mention membership in the "Bodwell Grange of Smallpoint, Maine." Does this organization still exist and after whom is it named?
Why did George Prescott Bodwell 1847 change his name to Broadwell? Falling out with his family or evading the law? [solved by Wini Bowen, Sept, 1997- Wini believes that Broadwell is a mid-western pronunciation of Bodwell]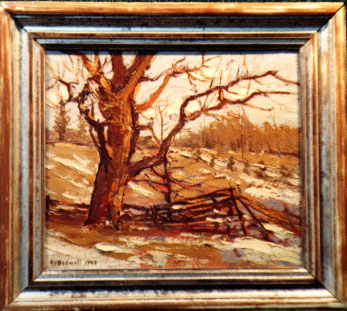 Who is the A. V. Bodwell who painted this picture in the1920's [Solved by Sarah V. Dunlap on 31 Mar 1999 and the artist is Arthur Van Zile Bodwell 1890 son of John Hanford Bodwell, Sr 1846
















Was Joshua Bodwell (1765) among the 48 men that Gen Rufus Putnam took with him in 1788 to found Marietta, Ohio and open the Northwest Territory to legal settlement or did he come to Marietta at a later time? [solved by Donald Bodwell, June, 1997]
How was Sarah Jane Bodwell an important influence in the life of Mary Baker Eddy (the founder of Christian Science)
How did Governor Joseph R. Bodwell wind up with the Methuen ancestral home that had been handed down to first sons named Henry for 4 or 5 generations.
Why did the Indian plant the Bodwell elm at the homestead when Henry was an obvious Indian fighter.
How did Joshua's (1736) wife Priscilla Parker Bodwell get killed by Indians in Haverhill, and when?
Were the Bodwell men those who rode to the alarm of April 19, 1775 actually at Lexington or Concord, or did they participate in the pursuit of the British back to Boston? Or both?
Where were the militia units that the Bodwell's served in during the Battle of Bunker Hill. Solved D. J Bodwell July, 1997.
On August 20, 1858, the Missouri guerilla leader Quantrill, with 350 men, rode into Lawrence, Kansas burning the town to the ground and killing every man they could find. How did the Rev. Lewis Bodwell escape the massacre?
Why did John Brackett Bodwell leave the Bank he founded (some say...in the middle of the night) to move to Florida? Panic of 1890?
What did George W. Bodwell do with his share of the reward money for capturing CSA President Jefferson Davis?
Kelly Bodwell recalls a family tradition of a Texas Ranger on his side of the family. Who was this masked stranger? [solved 15 Mar 1997 by DJ Bodwell - see Celsius Putnam Bodwell]
William L. Bodwell died at Gettysburg 5 Jul 1863. What unit did he fight in and what was its part in the battle? [solved 26 Mar 1997 by DL Harvey- double click William above]
Who was the father of Ebenezer Bodwell who served as a Corporal in the 34th Infantry in the War of 1812. [solved Geoffrey L. Bodwell Dec 1998]
Philyar A. Bodwell fought in the Oregon Rouge River War of 1856. Could Philyar be short for Philander? Or could Philyar actually be a misreading of the mid-1880 script spelling of Charles Augustus Bodwell.
Did Charles Augustus Bodwell make it to the California gold fields in 1849 in time to stake a claim and get rich? [solved 25 Mar 1997 by DJ Bodwell - double click Charles Augustus Bodwell above]
Why was Capt. Bailey Bodwell (War of 1812) brought up on court marshal charges by some of his own men?
Why was Noble Bodwell so afraid of bees?
Why did William Bodwell, Jr.'s father change William's name to Hiram Bodwell in 1828?
William Philander Bodwell died in Nashville one month after the Civil War battle of Chicamauga. Was William serving in the military? If so, what was his unit? Solved by Robert Honohan, Lexington, Ma.: William served as a Private in the 10th Wisconsin Infantry. He was, in fact mortally wounded in the battle of Chickamauga on 19 Sep 1863. And according to the Roster of Wisconsin Volunteers, died in Chattanooga, Tn on 21 October 1863.