Seth Bodwell (1873-1938)
Son of: John 1842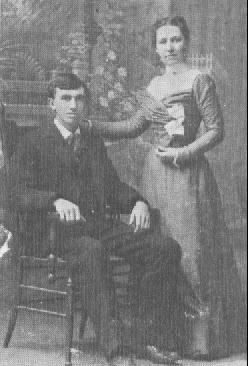 Seth Bodwell, son of Dr. John S. and Caroline (Davis) Bodwell, was born May 18, 1873, in Paxton, Illinois. He married Evalyn Beeth, daughter of Cyrus and Angelina Beeth, who was born October 8, 1877, in Paxton on September 13, 1899. Their first two children John Cyrus, born September 1900, and Beulah Amy born, December 18, 1902, were born in Paxton, Illinois.
In 1904, leaving family and friends behind, they moved in a covered wagon to Medford, Grant County, Oklahoma, where their third child, Clarence S. (Bud) was born, February 3, 1906. Not being satisfied there, they again set out, in 1908, by covered wagon, to settle in Woodward County, Oklahoma, a few miles northeast of Tangier, where Bessie Louise was born July 20, 1913.
Like the majority of the families in the area, the Bodwells engaged in farming, raising cattle, hogs and sheep.
Entertainment was mainly neighborhood picnics. The children attended the one-room school known as the Liberty No. 33. Even at this early date, these pioneers realized the importance of specialized training and in 1915 John enlisted in the Boys' Pig Club work and had the honor to take first place in this County contest, carrying with it a trip to the State Fair and to the A & M College short course. Unfortunately, he was not to become the predicted prominent farmer of the future as death claimed him January 4, 1918, after an operation for appendicitis.
The Bodwells later homestead on a farm 3 miles north of Tangier and lived there for several years before moving to Woodward about 1921, where Mr. Bodwell operated a service station and a small junk business. During this time, the Woodward School system was being enlarged and children living on and near Fourth Street attended classes in the Woodward County Courthouse. On July 26, 1923, death claimed Mrs. Bodwell, after surgery, and Clarence "Bud" and Bessie lived with their sister, Amy and her husband, James Wesley Thomas, in the Tangier community. Mr. Bodwell died in San Antonio, Texas, on February 28, 1938. Both are buried with son, John, in Elmwood Cemetery, Woodward.
Descendants of Seth and Evalyn Bodwell: C. S. (Bud) Bodwell, who married Pauline Burns. Their daughter, Geraldine Bodwell, married Corbin Newcomb and they have two sons, Steven Newcomb and Rodney Newcomb. Later, Geraldine married Richard Rook and they have a daughter, Deign Rook. Dr. C. E. Bodwell, son of Bud and Pauline Bodwell, lives in Washington, D. C., and is not married.
Bessie Bodwell Stuart Koltermann has a daughter, Marilyn. She married Captain Donald Helton. They have 2 children, Christa and Wes.
Amy Bodwell Thomas and Wesley Thomas have four daughters.
Edna May Thomas Kenneaster Laubhan has two children. Her daughter, LaVoinne, married Vernon Stricker. They have two children, Lance and Kim. Her son, A. J. Laubhan, married Ann Fleming.
Osia Fay Thomas married Fred Lucas Sr. They have two sons. Dr. Fred Lucas Jr. married Joyce Gaff and they have a son, Trey. Dr. Wesley Lucas married Doris Bailey. They have two children, Todd and Toni.
Laura Evalyn Thomas married Eugene Stevens and they have two daughters, Debbie and Sheryl, and a son, Norman Eugene Stevens, Jr.
Amy Irene Thomas married Frank Whitbeck and they have four sons. Robert Whitbeck married Coleen Smith and they have two daughters, Joleen and Justina. Jim Whitbeck and Gary Whitbeck are not married. Tom Whitbeck and wife, Pat, have a daughter, Sherry, and baby son.
| | | | |
| --- | --- | --- | --- |
| Born | Died | Married | Spouse |
| 18 May 1873 | 28 Feb 1938 | 13 Sep 1899 | Evalyn Beeth |
| Paxton, Il | San Antonio, Tx | Paxton, Il | b. 8 Oct 1877 |
Children of Seth and Evalyn (Beith) Bodwell
| | | | | | |
| --- | --- | --- | --- | --- | --- |
| <![if !supportEmptyParas]> <![endif]> | Name | Birth Date | Birth Place | Death Date | Death Place |
| 1. | John Cyrus | 5 Sep 1900 | Paxton, Il | 4 Jan 1918 | Woodward, Ok |
| 2. | Beulah Amy | 18 Dec 1902 | Paxton, Il | 15 Jan 1981 | Woodward, Ok |
| 3. | | 3 Feb 1906 | Medford, Ok | 25 Oct 1968 | Woodward, Ok |
| 4. | Bessie Louise | 20 Jul 1913 | Medford, Ok | 15 Jun 1987 | San Antonio, Tx |
http://www.usgennet.org/usa/ok/county/woodward/database/f_29.html#32
<![if !supportEmptyParas]> <![endif]>
02/01/97 07/26/01
[Return to The Bodwell Family Home Page]
Contact: bodwell@ptcpartners.com
Copyright (C) 1996, 1997, 1999 Donald J. Bodwell. All rights reserved