The Bodwell House and Elm Tree
Henry's first house was built of logs and stood in the junction of the fork formed by the Merrimack and Spickett rivers. It was erected in the summer of 1693. A second house was built in 1708 upon the site of the log house. The new house was presently moved to its new location at 31 East Haverhill Street, Lawrence, and two additions were built on to it for the children as they married. "This house became known as the Old Elm Bodwell House.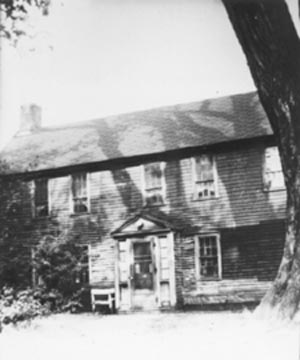 It takes its name from the elm tree that was planted nearly 200 years ago (from 1932) by an Indian to show his gratitude to Henry, who owned the property in 1735, and who had done so much for the Indians." (Massachusetts State History in the Daughters of the American Revolution, 1932) Another source states: "...the fine old elm which stands in front of the house was planted on the morning of July 26, 1729, by an Indian, who was rewarded for his services with a gallon of rum.
The chimney [was] of immense proportions, measuring twenty feet by thirteen at the base. It was built, it is said, in 1738, although bricks marked "1688" have been taken from the huge chimney. The [were] laid in mortar, made by admixture of clay and chopped straw. (History of Lawrence, Massachusetts, Maruice B. Dorgan. 1924, p. 16)
In 1957, the town of Lawrence tore down the Bodwell House and removed the Elm which had died some years before. According to a next door neighbor, the town removed the house because it was unoccupied and was being visited by vandals. A plaque commemorating the Bodwell Homestead, is located on the site.
The family is grateful to Patty Spenser (granddaughter of Hazel Elvie Bodwell Cram) who was kind enough to send in this postcard of the old homestead to share with the rest of the family. The smaller snapshot was sent in by Henry Hassell, Amelia, Va. grandson of Anson Lewis Bodwell
And finally a photo of the old homestead as it looked in its prime:
This photo from:"Images of America Lawrence, Massachusetts, by. Eartha Dengler, Katherine Khalife, and Ken Skulski, 1995, Copyright Immigrant City Archives, 1995 Arcadia Publishing, an imprint of the Chalford Publishing Corporation, One Washington Center, Dover, New Hampshire 03820, Printed In Great Britain. With thanks to Anne Arner, Lawrence, Massachusetts GEN WEB hostess, for sending this in.

[Return to The Bodwell Family Home Page]

Contact: bodwell@ptcpartners.com


Copyright (C) 1996, 1997, 1999 Donald J. Bodwell. All rights reserved.