Oswald Reginald Bodwell (1883-1966)
Son of: Eliphalet 1850
Oswald was born on July 6, 1883, in Ingersoll, Ontario. He grew up in a 13-room stone country house, Bleak House, named after a fictional property that Charles Dickens invented. For many of his adult years, he worked in his family's dairy there. His wife, Ruby, who he married in 1906, also helped at the dairy. For many years, some 200 pounds of butter a week and cream were produced there.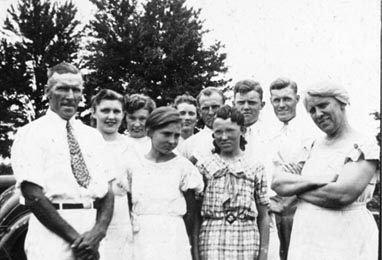 Ruby later recalled that she moved 18 times with her family. The most memorable was a 1927 journey in a Star touring car from Canada to Brownsville, Texas. The party, with 2 parents and 7 children, took 14 days going and 12 coming back. In between, they discovered that the Texas land would not irrigate well enough to grow grapefruit, as planned, so they returned in 6 weeks, to their farm in Norwich, Ontario. The next year, Oswald became one of the farm overseers at Wildwood Farms, William E. Scripps' country estate near Lake Orion, Michigan. The family weathered the worst of the Depression years, until 1933, there. There were famous visitors, including major league baseball players and Amelia Earhart, who flew an experimental glider . The three Bodwell sons struggled in ropes and harness to propel her glider into the air to start her flight over the farm. Oswald's daughter, Margaret Lila Bodwell Armstrong, recalled being taught in the estate school with the Scripps children. She remembered Oswald encouraging family singing and lengthy storytelling, in the Celtic tradition. One summer there Oswald endured quarantine for a month to escape an epidemic of spinal meningitis. In 1977, during a reunion at son Graham Bodwell's farm in Metamora, Michigan, family members revisited the estate. The house they'd lived in was gone, but a row of other worker's houses had been nicely maintained as an Antique Village. The Scripps mansion had become a health facility. Oswald and Ruby celebrated their 58th wedding anniversary in 1964 with a dinner and an interview for the local newspaper. Oswald died on May 5, 1966, in Norwich, Ontario. Biography written by Mary Jo Armstrong, Oswald's granddaughter.
| | | | |
| --- | --- | --- | --- |
| Born | Died | Married | Spouse |
| 6 Jul 1883 | 5 May 1966 | 12 Dec 1906 | Ruby Belle Smith |
| Ingersoll, Ont | Norwich, Ont | Dereham, Ont. | b. 12 Jun 1884 |
Children of Oswald and Ruby (Smith) Bodwell
| | | | | | |
| --- | --- | --- | --- | --- | --- |
| | Name | Birth Date | Birth Place | Death Date | Death Place |
| 1. | Jean Evelyn | 22 Mar 1907 | Salford, Ont | 10 Jul 1989 | Schenectady, Ny. |
| 2. | Graham Smith | 27 Oct 1911 | Salford, Ont | 16 Jul 2004 | Metamora, Ont. |
| 3. | | 17 May 1913 | Salford, Ont | 30 Jun 2000 | Albany, NY |
| 4. | Margaret Lila | 19 Oct 1915 | Ingersoll, Ont | Feb 1997 | Arlington, Va |
| 5. | | 3 Nov 1916 | Ingersoll, Ont | | |
| 6. | Mary Isabelle | 8 Jul 1918 | Brampton, Ont. | | |
| 7. | Jessie Alexandra | 17 Jan 1920 | Norwich, Ont. | 5 Feb 2001 obt | Tigard, Or |
| 8. | Goldie Josephine | 30 Jun 1922 | Norwich, Ont | 18 Mar 1996 | Clackamas, Or |
Notes:
Bodwell, Mary Isabelle (1918 - ) - female b. 8 Jul 1918 in Brampton, Ontario, Canada
Mary quit public school at an early age to care for her ill mother. She came to the United States when she was about 15 years old. She didn't take out first papers. She took out 2nd papers after her marriage to Ed Koester. She has two daughters, Judy and Janet. Both daughters have two children. Mary worked most of her adult life as a waitress. She retired from the Dearborn Inn where she was feted with a large party for her many years of service. http://breeze.org/ft/wga6.html#I866 (Watt Family)
spouse: Koester, Edmund Frances (1906 - ~1973)
- m. 1 Jun 1945 in Detroit, Wayne Co., Michigan
----------child: Koester, Judith Dorothea (1947 - )
----------child: Koester, Janet Marie (1950 - )
Photo of Oswald and family in the 1930's courtesy of Mary Jo Armstrong, Alexandria, Va.
Graham Smith Bodwell
By Jim Sherman, Sr. 
I'm in a situation of wanting to write a story, yet not wanting to.
I'm told there will be no obituary for Graham Bodwell, probably because of his wishes. That in and of itself tells you a lot about this man.
Graham owned the Minneapolis-Moline farm machinery dealership at 21 S. Washington Street in Oxford when I arrived here in May 1955. He closed it that same year, after about six years in business.
His personality was magnetic to both men and women. He was ruggedly handsome with a strong jaw, full-teethed smile and easy laughter. Too, he could be provoked into a fight, and I don't mean wit-matching.
Graham had hands like hams. Large, strong gripping and fist fighting hands. He and our friend Pansy Baldwin would clean out a bar in the days following World War II when returning vets hung out in bars.
Yet both were gentlemen. They were admired by men because they were men's men. They drew women's attention because they were like Bounty Paper Towels, tough but oh so gentle.
Graham was the kind of man we'd envision as one who would have led a group of settlers heading west to settle in a new land.
A tall man, strong, raw-boned, energetic, able.
For years he worked for John Miller Electric, the same company that electrified GM's Willow Run plant for WWII production. Miller owner, Charles Pierce, lived on Hosner Road in Addison Township. Because of their electrical contracts many electric poles accumulated.
Pierce gave them to Graham, who besides being an electrician, worked at Pierce's farm. Graham was a lover and collector of steam engines. One of those old timers he used to power a sawmill at his place in Metamora.
He built his house of these discarded poles - the cabinets, trim, door jams, flooring, trusses, etc. A couple years ago I visited Graham at his home. A drop-in lasted two hours. Fascinating, interesting man.
Through his years he met several whom we'd call celebrities. One was Detroit Tiger great,  catcher Mickey Cochran, who gave him a baseball bat. Graham cut it to make the clutch work on his sawmill tractor. When friend and neighbor Pat Sweeney asked Graham if he knew how much that would be worth today, Graham said, "It's worth a lot to me making the clutch work."
The Graham Bodwell stories I like best are his flying experiences. In the late 1940s he and Walt Hart bought a Cessna 120 two-seater. For something to do, he flew it to Chili in South America. There he befriended a family on an island.
He revisited them three times and they came to his home in Metamora once. They were sheep-raisers.
One time on a flight back from Florida, Graham crash landed in a field in Tennessee. The crash bent the propeller. Walt Hart took him another, and after the repair, offered to fly it out of this relatively limited field. Graham said, "I put her in here and I'll take her out." Which he did, ruffling the tops of trees en route.
He had other plane flying friends, including Lloyd "Cupie" Wait and Stan Allen, who flew out of Lee VanWagoner's field north of Oxford.
On trips they carried a couple of 5-gallon cans of gasoline for emergencies. Once while a passenger in Cupie's biplane, the gas was running low so Graham carried a can of gas out on the wing and refueled the plane in flight.           
He loved to attend Michigan State University Farm Days, run his steam engines in parades and rebuild machinery. His workshop was busy, some say cluttered, with  yet-to-be-finished projects - cars, tractors, farm tools. Graham also flew with Michigan's Dawn Patrol.
For a short while he owned The White Horse Inn in Metamora, such was his adventuresome, risk-taking life.
It was Graham's wish to be cremated, and to have no memorial service, though I've heard one may be being planned. He kept a diary, writing in it every day. He also had multiple pictures of Oxford, Metamora, Lapeer, and Orion. Hopefully, Pat Sweeney will be given them by the estate executor and we'll have a chance to tell you more about this pioneer-type man, Graham Bodwell - October 1911 - July 2004.
01/01/97 02/08/97
[Return to The Bodwell Family Home Page]
Contact: bodwell@ptcpartners.com December 26,1996
Copyright (C) 1996, 1997 Donald J. Bodwell. All rights reserved.