John Theodore Bodwell (1923 - 1944)
Son of Paul 1885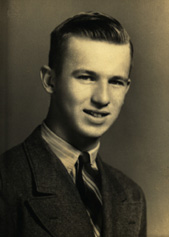 John was a student at North Carolina State University as WWII began. He had a number of hobbies and interests. John hoped someday to become an established writer and worked diligently to turn out polished prose. But he also had a fascination with geneology. John made at least one trip to Massachusetts and Maine to research the Bodwell family roots, collecting a great deal of information on the early Bodwell origins in America. Sometime in 1942 he was drafted into the Army. With a great deal of reluctance he submitted to draft. He served as a Private in the 104th Infantry, 26th Army Division. He was a truck driver for the Red Ball Express during the Battle of the Bulge at the time he was killed by a sniper.
| | |
| --- | --- |
| Born | Died |
| 1923 | 15 Nov 1944 |
| Savannah, Ga | Alsace-Loraine, France |
December 26, 1996

[Return to The Bodwell Family Home Page]

Contact: bodwell@ptcpartners.com December 26,1996
Copyright (C) 1996, 1997 Donald J. Bodwell. All rights reserved.