Lt. Col. Howard Lionel Bodwell (1881-1919)
Son of: Eliphalet 1850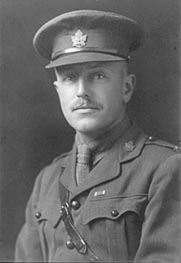 Howard entered the Royal Military College, Kingston, (RMC) in 1900. His College number was 543. He graduated in 1903 with the rank of Company Sergeant-Major (CSM). He worked first in Northern Ontario and Manitoba, as a surveyor on the transcontinental railway being built by the Grand Trunk Pacific, now a part of the Canadian National. During this period he authored "An Early Picnic" published in the Kith and Kin of the Bodwells, April 1,1904.After two years he took a job as instructor in engineering at the Royal Military College. From 1907 to 1909 he was resident engineer of a ten-mile section of the Canton-Hankow Railway in China. From then until the outbreak of WWI in 1914 he was a construction engineer with the Grand Trunk Pacific Railway. One of his last jobs was the construction of the bridge over the Fraser River at Prince George.
When the war broke out he was commissioned a Captain and joined the New Westminster Regiment but later transferred to the Seaforth Highlanders of Canada and then to the 2nd Canadian Pioneer (the pioneer battalions were engineer units) Battalion. He went overseas in 1915 as second in command of the 2nd Canadian Pioneer Battalion, and saw active service, largely concerned with building light railways to supply the trenches. He was promoted to Major and eventually to Lt. Col and the staff position of Assistant Director of Light Railways at the headquarters of the 4th British Army in France. He was twice wounded, the first time when he won the Distinguished Service Order (DSO) rescuing a wounded soldier, the second shortly before the end of the war. His Companion of the Order of St. Michael and St. George (CMG), as well as the French Croix de Guerre and Legion d'Honneur were awarded for outstanding work in the construction and operation of light railways. Apart from these awards, he also had the War Medal with two bars (for mentions in dispatcheds) and the Victory medal.
Howard died in St. John, New Brunswick, on his way home, from a combination of war wounds and the 1919 influenza epidemic. (Geoffrey L. Bodwell, 1997, news clippings, and service record)
| | | | |
| --- | --- | --- | --- |
| Born | Died | Married | Spouse |
| 13 Oct 1881 | 15 Jan 1919 | 30 Jul 1913 | Dulcie Maragret Hornby |
| Ingersoll, Ont | St. Johns, NB | Vancouver, BC | b. 5 Mar 1887 |
Children of Howard and Dulcie (Hornby) Bodwell
| | | | | | |
| --- | --- | --- | --- | --- | --- |
| | Name | Birth Date | Birth Place | Death Date | Death Place |
| 1. | Geoffrey Lionel | 19 Sep 1914 | Vancouver, BC | | |
| 2. | Margaret (Margot) Dulcie | 16 Mar 1916 | Vancouver, BC | | |
01/01/97
[Return to The Bodwell Family Home Page]
Contact: bodwell@ptcpartners.com December 26,1996
Copyright (C) 1996, 1997 Donald J. Bodwell. All rights reserved.