The Bodwell Family Arms
By Geoffery L. Bodwell
---

Bodwell Family Motto: "I remember my friends and fear no foes.
The Bodwell (Bodvel, Bodville, etc.) arms are those of the chief of the tribe of Collwyn ap Tangno, namely sable a chevron argent between three fleurs-de-lis of the second. Sable (black) describes the field or background and argent (silver) the chevron and fleurs-de-lis. The phrase "of the second" means of the second colour, i.e. argent.
According to an article in the Transactions of the Caernarfonshire Historical Society, these arms are - or were - born by the following families, all of whom are branches of the Wynns:
Bodfel of Bodfel
Bodwrda of Bodwrda
Lloyd of Llanfair Fawr
Newborough of Glynllyfon
Williams of Abererch
Vaughan of Berkin
Wynn of Penyberth in Llyn
Madryn of Madryn
Owen of Plasdu Arfon
The Bodwell family is indebted to Eileen and Greg Ball of Franconia, N.H. (Greg is the grandson of Clare Thomas Bodwell) for providing the following photo and information obtained on their 2006 visit to Wales: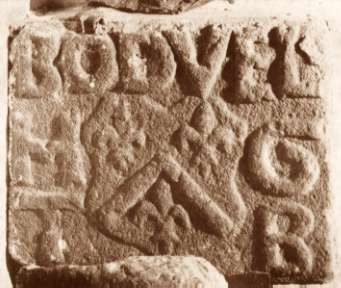 This stone measures approximately 36"H x 24"W x 4.5" Thick. The stone is located inside the EGLWYS LLANNOR CHURCH, Llannor, Wales. The church is a few miles from the ancient Bodvel estate on the Llyn Pennisular. More information is available at www.penllyn.com then click on Llannor on the right side of the penllyn menu.