Rev. Abraham Bodwell (1777-1863)
Son of: William 1747
Abraham graduated from Harvard University in 1805, spent 3 months in the study of theology with Rev. Jonathon French of Andover, Massachusetts and received approbation to preach from the Westford Association at Stoneham, April 30, 1806. Esquire Josiah Emery was sent by the town to Andover, seventy miles, on horseback to confer with him and to invite him to preach as a candidate, which he did for three months, delivering 23 discourses and two very pungent ones, Aug 24, 1806 from the text Isiah i,3,1,c.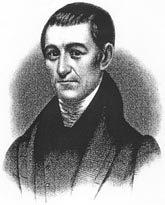 He was ordained Nov 13 1806. "His ministry was faithful and earnest in no common degree. He presented habitually, as though he believed them with all his heart, the great fundamental doctrines, -- ruin, redemption and regeneration." After a season of deep and prayerful anxiety for his people in 1816, the spirit was poured from on high; the whole parish was shaken and more than one hundred were hopefully converted to Christ, many of whom were fathers and mothers, among the most respectable and influential of the congregation. Other seasons of awakening were enjoyed, but none comparable to this.
During the 46 years of his ministry, 307 were received into the church and there were 484 baptisms, mostly children. He was eminently a peacemaker, "combining the utmost meekness of spirit and forbearance of demeanor, with declared decision and firmness of principle." He took an early stand on the temperance question, seconded by his excellent wife; "was at once an unworldly man and an excellent financier." Was ever bound to his collaboration, Rev. Mr. Crockett, of the First Baptist Church, "by a friendship, based on mutual and high respect and a warm affection.
He was dismissed by the same council that installed his successor, the Rev. James Boutwell, June 24, 1852, and ever afterward proved a good parishioner, a faithful teacher in the Sabbath School, ad an occasional aid to the preacher in the pulpit, while his strength continued. On the 50th anniversary of his settlement, he preached a half-century sermon, but it was not published till after his death. (History of Sanbornton, Nh, p. 40-44)
| | | | |
| --- | --- | --- | --- |
| Born | Died | Married | Spouse |
| 5 May 1777 | 24 Mar 1863 | 12 Jan 1809 | Nancy Conner |
| Methuen, Ma | Sanbornton, Nh | Sanbornton, Nh | b. 29 Jan 1788 |
Children of Abraham and Nancy (Conner) Bodwell
| | | | | | |
| --- | --- | --- | --- | --- | --- |
| | Name | Birth Date | Birth Place | Death Date | Death Place |
| 1. | Sarah Jane | 12 Feb 1810 | Sanbornton, Nh | 11 Nov 1880 | Laconia, Nh |
| 2. | Joseph Conner | 11 Jun 1812 | Sanbornton, Nh | 17 Jul 1876 | SW Harbor, Me |
| 3. | Ruth Conner | 9 May 1814 | Sanbornton, Nh | 4 Jan 1886 | Sandoval, Il? |
| 4. | Ann | 28 Jan 1817 | Sanbornton, Nh | AFT 1842 | |
| 5. | Frances Conner | 29 Dec 1818 | Sanbornton, Nh | AFT 1881 | |
| 6. | Mary | 17 Nov 1820 | Sanbornton, Nh | 25 Feb 1821 | Sanbornton, Nh |
| 7. | Susan Ordway | 14 Dec 1822 | Sanbornton, Nh | 21 Oct 1862 | Sanbornton, Nh |
| 8. | William | 25 May 1826 | Sanbornton, Nh | 3 Sep 1873 | Hyde Park, Ma |
| 9. | Elizabeth Lancaster | 3 May 1830 | Sanborton, Nh | 27 May 1861 | Sanbornton, Nh |
01/03/97

[Return to The Bodwell Family Home Page]
Contact: bodwell@ptcpartners.com
Copyright (C) 1996, 1997 Donald J. Bodwell. All rights reserved